Vayu (god of wind and prana or life-breath, king of the celestial musicians, purifier and hence represents the divine breath of the gods).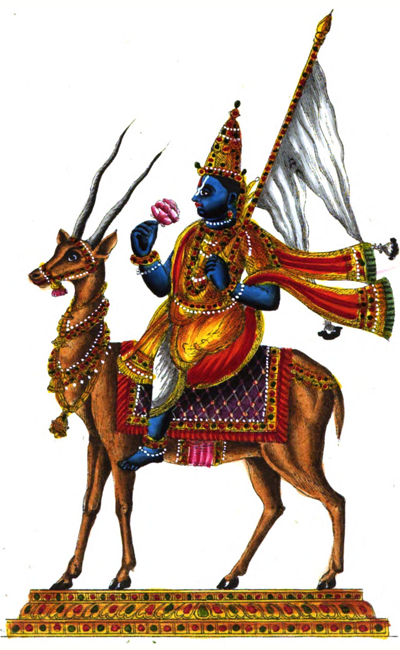 | Element | Description |
| --- | --- |
| Diety | Vayu |
| Sounds | Ru (रू), Re (रे), Ro (रो), Taa (ता) |
| Planet | Rahu (North Node) |
| Colour | Black |
| Gana | Deva Gana |
| Animal | Male Buffalo |
Introduction to Swati Nakshatra
Welcome to the Swati Nakshatra! (The Self-Going Star) We're excited you're here.
Lot of content about swati nakshatra arranged step by step. You can understand most common trade qualities of swati nakshatra people. But don't judge anything by just knowing birth star.
We have to look janam kundali for detailed analysis:
Philanthropy for Educational Institutions.
Travel, Tourism and Aviation Industry.
Strive for Strength & Independence.
Fluctuating Relationships and Partnerships.
Compassionate
Sweet voice
Soft spoken
Expects positive outcomes
Charitable
Merciful
Independent
Controls desires
Gastric problem
Quiet
Restless
Focused on personal gain
Clever in trade
Commerce and business
Seeks the truth
Tender
Kind
Accurate
Finds lowest common denominator
Optimistic
Involved in spiritual or humanitarian causes
Enjoys the company of religious or well integrated people
Enjoys travel
Interest in science and philosophy
Independent
Persuasive communication style
Disciplined
Friendly
Pure
Desires harmony
Honest & rational
Restless
Unable to recognize own limitations resulting in loss of money
Reputation and status
Spendthrift
Critical
Quiet
Monastic
Reclusive
Secretive
Hidden passions
Creative and absurd thinker
Vulnerable
Easily influenced by others
Focused on personal gain
Lack of interest in family life & temperamental
Business and trade
Sports
Singers
Musicians who play wind instruments or the organ
Inventors
Independent entrepreneurs
Pilots
Aeronautics
Researchers
Service professions
Software industry
Handy man
Extreme sports
Educators
Ambassador
Lawyers
Judges
Politicians
Union leaders
Diplomats
Hostess
Yoga instructor
jobs needing flexibility
Nakshatra Padas
| First Pada | Second Pada | Third Pada | Fourth Pada |
| --- | --- | --- | --- |
| 06°40′ to 10°00′ (07) | 10°00′ to 13°20′ (07) | 13°20′ to 16°40′ (07) | 16°40′ to 20°00′ (07) |
| Navamsa: Sagittarius | Navamsa: Capricorn | Navamsa: Aquarius | Navamsa: Pisces |
| Sound: Ru | Sound: Re | Sound: Ro | Sound: Ta |
| Keyword: Open-minded | Keyword: Stability | Keyword: Learning | Keyword: Adaptability |