Pushan (one of the 12 adityas or vedic solar deities) who represents the "nourishing form of the sun god", "the animal keeper of the gods", "the protective deity of the cattle and the paths", "the nurturer and protector of flocks and herds", "protector of wayfarers and their belongings", "one who is usually invoked for safe travel", he is "the measurer of the skies", he is also "the protector of the soul in its journey to the next world", "god of meetings"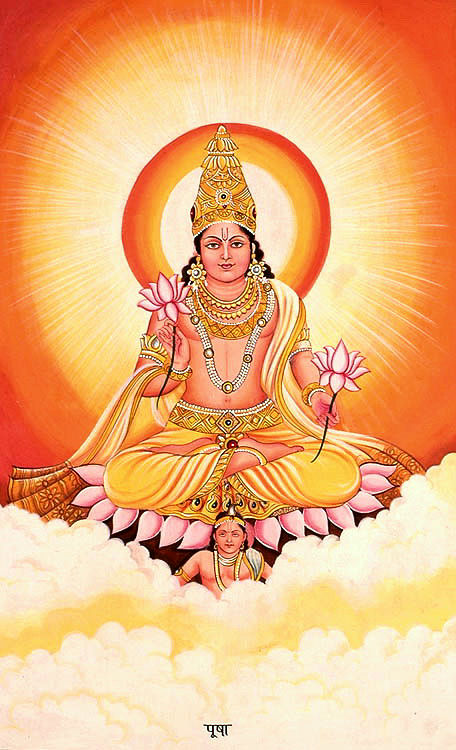 | Element | Description |
| --- | --- |
| Diety | Pushan |
| Sounds | De, Do, Chaa, Chee |
| Planet | Mercury |
| Colour | Brown |
| Gana | Deva Gana |
| Animal | Female Elephant |
Introduction to Revati Nakshatra
Welcome to the Revati Nakshatra! (The Wealthy Star) We're excited you're here.
Lot of content about revati nakshatra arranged step by step. You can understand most common trade qualities of revati nakshatra people. But don't judge anything by just knowing birth star.
We have to look janam kundali for detailed analysis:
Problems with Teeth or Dental Issues.
Traffic Lights, Roads and Accidents.
Foster Parenting and Surrogacy.
Nurturer and Protector of Flocks and Herds.
Protector of Wayfarers and their Belongings.
One of the 12 Adityas, Gives god body & health.
Perfect limbs genial manners
Deep learning
Does not covet others
Riches
Property
Late child birth
Karmic spouse
Karmic mother
Poor health
Overly sensitive
Low self-esteem
Creative thinker
Independent
Lucky
By all
Gives and receives support
Gifted at arts
Nurturer
Promoted quickly
Skilled in pleasing
Sociable
Good counselor
Proud
Stately presence
Sparkling personality
Loves and protects animals and pets
Longevity
Brave
Well groomed
Good hygiene
Might be born into a wealthy family
Interested in ancient cultures
Selflessness
Compassionate
Caring
Takes on other people's problems
Overindulgent
Poor health
Amoral attitudes
Doubt ridden
Low fertility
Spiteful when hurt or jealous?
Resentful
Feels inadequate
Low self-esteem
Overly sensitive
Stubborn
Volatile
Co-dependent
Easily disillusioned
Victimized
Feels unloved or insecure
Charity work
Humanitarians
Urban planners
Government workers
Psychics
Mystical or religious work
Hypnotist
Travel agents
Flight attendants
Journalist
Editors
Publishers
Actors
Comedians
Politicians
Painter
Musician
Entertainer
Linguist
Magicians
Watchmakers
Road planner
Astrologers
Managers
Gemstone dealers
Shipping industry
Orphanage or foster care
Driving professions
Air traffic control
Traffic cops
Light house work
Nakshatra Padas
| First Pada | Second Pada | Third Pada | Fourth Pada |
| --- | --- | --- | --- |
| 16°40′ – 20°00′ (12) | 20°00′ – 23°20′ (12) | 23°20′ – 26°40′ (12) | 26°40′ – 30°00′ (12) |
| Navamsa: Sagittarius | Navamsa: Capricorn | Navamsa: Aquarius | Navamsa: Pisces |
| Sound: The (De) | Sound: Tho (Do) | Sound: Cha (Chaa) | Sound: Chi(Chee) |
| Keyword: Enthusiasm | Keyword: Practicality | Keyword: Altruistic | Keyword: Visionary |