This star is known to be ruled by the whole serpent kingdom. The nagas or the serepents are abound throughout all the 14 worlds as described by the vedic texts. Though serpents can live everywhere, they are the forces necessary for proper functioning of the universal affairs.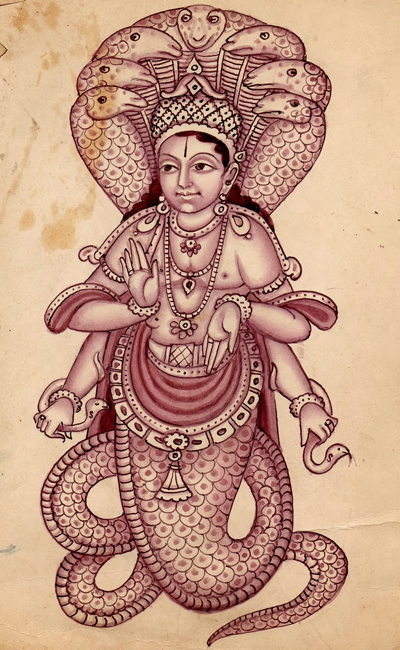 | Element | Description |
| --- | --- |
| Diety | Sarpas/ Nagas |
| Sounds | De (डी), Du (डू), De (डे), Do (डो) |
| Planet | Mercury |
| Colour | Blackish Red |
| Gana | Rakshasha (Demon) |
| Animal | Male Cat |
Introduction to Ashlesha Nakshatra
Welcome to the Ashlesha Nakshatra! (The Clinging Star) We're excited you're here.
Ashlesha Nakshatra 4th Pada: People born under the nakshatra of Ashlesha pada 4 are very lucky in life. They get lot of wealth and happiness by their mothers and father and parents usually become a source of wealth. This is the pada where Ashlesha natives are themselves victim instead of victimizing others.
They have to work hard to maintain any relationship in life. If this pada is afflicted, it gives serious psychological problems. 4th Pada 26° 40′ – 30° 00′ Cancer falls in Pisces Navamsa ruled by Jupiter. These folks do very well in real estate business, hotel or motel owners and they are also gifted in the art of writing.
We have to look janam kundali for detailed analysis:
Sensual, Seductive and Hypnotic Eyes.
Disguise, Secrecy, Deception and Manipulation.
Remorseless, High Ego, Suspicious & Cold Natured.
Connected Manipulation, Calculation.
Connected to Snakes.
Skilled in research and writing
Sharp intellect
Mystical
The ability to entertain
Good at speach
Analytical
Manipulation
Allergies
Secretive
Breaks the rules
Mental instability
Independent
Clever
Versatile
Sharp
Philosophical
Entertaining
Multiple occupations
Seductive
Gains through spirituality
Passionate and disciplined when interested in topic
Ability to accomplish greatness when motivated
Mental instability
Nervous
Depressed
Moody
Deceptive
Tactless
Lacking social skills
Impolite
Careless
Selfish
Secretive
Detached
Ungrateful
Unpopular
Introspective
Reclusive
Blunt
Unappreciative
Possessive
Breaks the rules
Scattered
Unproductive
Chemist or chemical engineer
Professions handling poison or hazardous materials
Petroleum industry
Pharmaceutical industry
Drug dealer
Tobacco industry
Thieves
Embezzler
Prostitutes
Adult entertainment industry
Working with reptiles
Snake charmer
Surgeons
Covert operations
Secret service
Lawyers
Politician advisors
Psychologists
Hypnotist
Yoga instructors and charlatans
Nakshatra Padas
| First Pada | Second Pada | Third Pada | Fourth Pada |
| --- | --- | --- | --- |
| 16° 40′ – 20° 00′ (04) | 20° 00′ – 23° 20′ (04) | 23° 20′ – 26° 40′ (04) | 26° 40′ – 30° 00′ (04) |
| Navamsa: Sagittarius | Navamsa: Capricorn | Navamsa: Aquarius | Navamsa: Pisces |
| Sound: Dee | Sound: Doo | Sound: Day | Sound: Doh |
| Keyword: Industrious | Keyword: Ambitious | Keyword: Secretive | Keyword: Illusive |
Elements of Ashlesha Nakshatra
| Element | Description |
| --- | --- |
| Star | Ashlesha Nakshatra |
| Sign | Cancer |
| Range | 16°40′ – 30°00′ in Cancer |
| Diety | Sarpas or Nagas |
| Planet | Mercury |
| Meaning | "The Embracing", "The Entwiner" |
| Indication | "The Clinging Star" |
| Symbol | Coiled Serpent, Circle, Wheel |
| Shakti (Power) | Vis Ashleshana Shakti (The Power to "Inflict Poison and Destroy the Victim") |
| Basis Above | The Approach of the Serpent |
| Basis Below | Agitation or Trembling |
| Desire | To Overcome Enemies |
| Body Part | Joints, Nails, Ears |
| Purushartha (Goal) | Dharma (Righteousness) |
| Category of Star | Tikshna (Sharp/ Dreadful) |
| Gana (Race) | Rakshasa (Demon) |
| Guna (Quality) | Sattwa |
| Varna | Mleccha (Outcaste) |
| Pancha Mahabhuta | Apas (Water) |
| TriMurthi | Shiva (Dissolve) |
| Animal | Cat |
| Bird | Small Blue Sparrow , Spotted Owlet (Pingala Pakshi), Heron |
| Tree | Nag Champa, Beauty Leaf Tree, Alexandrian Laurel (Latin Name: Calophylum Inophyllum) |
| Sounds | Dee, Doo, Day, Doh |
| Colour | Blackish Red |
| Tridosha | Kapha (Phlegm or Water + Earth) |
| Yoni (Gender) | Male |
| Direction | South |
| Gotra (Clan) | Vashistha (name translates as the "Possessor of Wealth") |
| Direction of Motion | Adho Mukha (Looking Down/ Facing Downwards) |